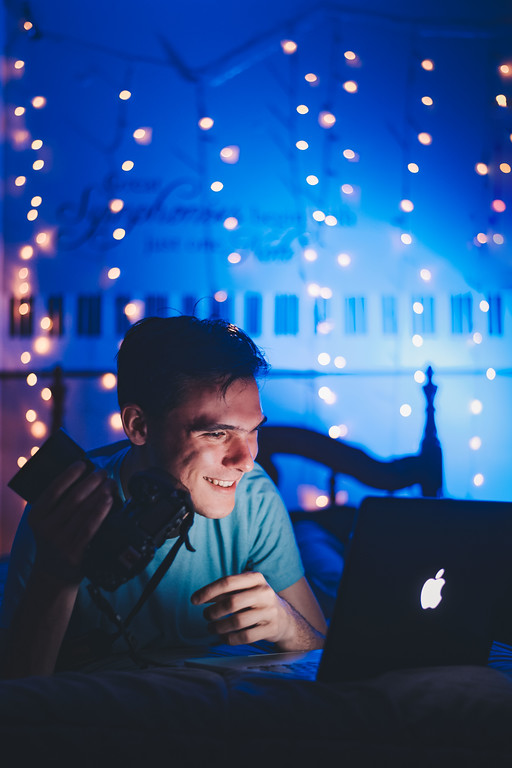 Staff Photographer since March 2018, Aaron is currently a senior at SUNY Buffalo State working toward a bachelor's degree in business administration with a concentration in marketing. Aside from photographing for The Record, Aaron runs his own freelance photography business which he started at the age of 16. He has photographed just about every type of work over the course of the last 6 years, but today concentrates his art towards portraits, weddings, and brand work. Upon graduation in May of 2020, Aaron plans to continue freelancing full-time. Much of Aaron's success as a business owner came due to the power of networking and social media. In September 2019, Aaron took on the role of Social Media Editor as well.
"I feel like The Record is the perfect club for me here at Buffalo State. The Record has allowed me to use my passion to capture life here on campus and meet new people everyday. Since I joined The Record, I've been opened up to business opportunities I didn't know were possible. I'm thankful for everyone I've met on campus, along with my fellow editors at The Record that have helped me get where I am today. My favorite aspect of campus life I get to capture is the fashion shows–I didn't know Buffalo State had such a dynamic fashion program. I love bringing awareness to the program through The Record, along with making business connections with upcoming brands & designers along the way."
View Aaron's professional work at
www.aaronbobeckphoto.com
or on Instagram at
@aarons_lens
.
Aaron Bobeck, Social Media & Photography Editor
Mar 10, 2020

[PHOTO GALLERY] Buff State Legacy SEXclusive

(Story)

Feb 04, 2020

Independent review of Women's Soccer program has been completed

(Story)

Sep 12, 2019

[PHOTO GALLERY] Buffalo State celebrates its 148th birthday

(Story)

Sep 09, 2019

[PHOTO GALLERY] Women's Soccer: Buffalo State 6, Trine 0

(Story)

Apr 09, 2019

[PHOTO GALLERY] Take Back the Night 2019

(Story)

Feb 07, 2019

[PHOTO GALLERY] African Diaspora Project's Diaspora Dialogue

(Story)

Nov 11, 2018

[PHOTO GALLERY] "The Color Purple" performed by Casting Hall Productions

(Story)

Oct 10, 2018

Students gather at tearful vigil to honor the life of Lillyann Cummings

(Story)

Oct 07, 2018

[PHOTO GALLERY] Football – Alfred University 51, Buffalo State 7 (October 6, 2018)

(Story)

Oct 02, 2018

Homecoming 2018 – A Week in Review

(Story)

Sep 29, 2018

[PHOTO GALLERY] Homecoming Football Game vs. Hartwick

(Story)

Sep 25, 2018

2018 Homecoming Week – Bengal Pause Activities

(Story)

Sep 06, 2018

E.H. Butler Library to undergo several renovations

(Media)

Apr 23, 2018

Photo Gallery: Many guests show support at Runway

(Story)

Apr 22, 2018

Photo Gallery: Buffalo State Rugby 2018 Kanga Cup Tournament

(Story)

Apr 12, 2018

PHOTO GALLERY: Take Back the Night in the Social Hall

(Story)