Bengals' keys to victory in I-90 Bowl vs. Brockport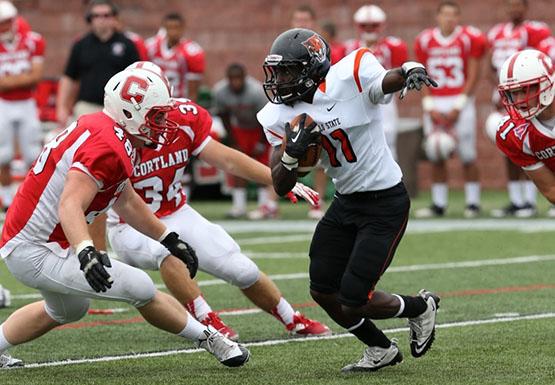 The football team went out and took care of business Saturday, opening its season with a 41-28 victory over Cortland.
Last week, I talked about the need for the Bengals to get the passing attack going, but they actually scored five touchdowns with a relatively balanced attack.
Casey Kacz accounted for all five touchdowns, but for the most part the entire offense got involved in the opening game victory. They rushed for 173 yards and ran for 226, which paints the picture of a relatively balanced attack.
Defensively, Buffalo State experienced extreme highs and lows throughout the day. After giving up a touchdown on the game's opening drive, the defense clamped down and allowed 37 yards on the next seven drives combined. But then on the last drive of the half, they gave up another long touchdown.
This week, the Bengals host Brockport in the I-90 bowl. To come out of their second game with another victory, the team has some areas that they need to improve upon. So with that, here are the team's keys to victory in week two:
1. Eliminate big plays defensively
–This is absolutely paramount to the Bengals' success on Saturday. Against Cortland, Buffalo State gave up touchdown plays of 67, 58 and 74 yards. This simply cannot happen if the Bengals intend to win games this year. The defense looked good at times, but needs to put in a more consistent effort in order to come out of the Brockport game with a victory. Adding to the defense's problems this week is Brockport's senior wide receiver Jake Spalik. Spalik was named a second team preseason All-American by the Collegiate Development Football League in 2013. He led the Golden Eagles with 73 receptions for 847 yards and six touchdowns last season, and the Bengals will need to find a way to stop him on Saturday.
2. Ground and pound
-Last week, Buffalo State ran for 173 yards against Cortland. When you did deeper, though, you see that 118 of those yards came from quarterback Casey Kacz. Additionally, most of Kacz's rushing yards came on the same play – a speed option play that the team kept running over and over again. Brockport has certainly seen this on film, and will undoubtedly have some sort of plan to stop the option. The Bengals need to get Rich Pete and Ismail Brooks involved more to create more of a balanced rushing attack.
3. Get to and contain the quarterback
-This is imperative every week, but keeping pressure on Brockport quarterback Tyler Stoldt will be vital this week. Stoldt has only made two career collegiate starts, including last weeks' game against Lycoming. He is inexperienced, but has shown the skills needed to be successful. Last week, Stoldt ran for 68 yards on ten carries, so keeping him contained will also be important. The Bengals had four sacks against Cortland, and they will need their defensive line to continue to get after the quarterback against Brockport.
Buffalo State and Brockport are scheduled to kick off at 2 p.m. Saturday at Coyer field. Stay tuned to buffstaterecord.com for stories throughout the weekend, and follow @bscrecordsports on Twitter for in-game updates and final scores from all campus teams.
Chris Dierken can be reached by email at [email protected] and on Twitter @cdierken
Leave a Comment