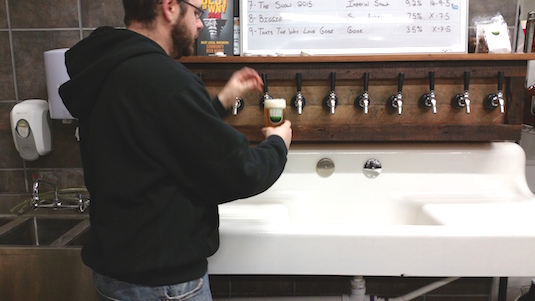 Jonny Moran / The Record
In fewer than three years of operations, Community Beer Works has created enough demand for their craft brews to plan on significantly expanding their business.
Head brewer Rudy Watkins said that the popularity of their brews at local bars and restaurants, specifically the brown ale Whale, has created a demand that pushed the need for expansion.  15 Lafayette Ave.
He said owners will take a trip to the annual Craft Brewer's Conference in Portland, Oregon, with expansion plans in tow. There, he said, they would talk to investors and big players in the field and decide on a final plan before purchasing additional property and upping beer production. He hopes to have the expansion up and running between six months and a year from the convention, which takes place April 14-17.
Community Beer Works is Buffalo's only operational nanobrewery [brewery that uses a smaller brewing system]. Located at 15 Lafayette Ave., less than two miles from SUNY Buffalo State, the nanobrewery sells beer by the glass or growler, but its real business comes from more than 30 area bars that carry its – beers on tap — business that has owners looking to turn their nanobrewery into a bigger operation.
Since its opening in late 2012, Community Beer Works' beer has flowed from the taps of some of Buffalo's most popular places to grab a pint, including Cole's, Mister Goodbar, Blue Monk, Pano's, Allen Street Hardware, Fat Bob's and (716) Food and Sport.
"Our system, as it stands now, [is] pushing it kind of beyond its limits in the amount of beer that we're brewing," Watkins said.  "716 opened a couple months ago and we started selling them Whale and the reception to that has been really, really awesome. I brew Whale usually twice a week now, where I used to brew it once a week."
Zachary Ehrenreich is a server at Liberty Hound at Canal Side. He said Community Beer Work's Whale brown ale is one of only three drafts on tap year-round and does surprisingly well out of season.
"Despite the fact that we're a summery place and the majority of people drink lighter summery drinks, we move a ton of Whale despite the fact that it's a brown ale," Ehrenreich said.
Whale has also been a popular seller at Duff's Famous Wings in the Eastern Hills Mall, said manager Nathan Aldinger.
"It was delicious, in my point of view. I've had many customers who raved about it and loved it," Aldinger said.
Duff's hasn't carried beer from Community Beer Works in about a month, according to Aldinger, but he said that's because they change their draft options frequently to bring in new customers. He said that the restaurant will "definitely take on Community" beer again.
Watkins credits the brewery's success to more than just their recipes.
"[There's been] an awakening of a desire for craft beer in Buffalo," he said. "In 2012, there were a bunch of good craft beer options, but now there's a ton and you can find really nice beer lots and lots of places."
Email: [email protected]