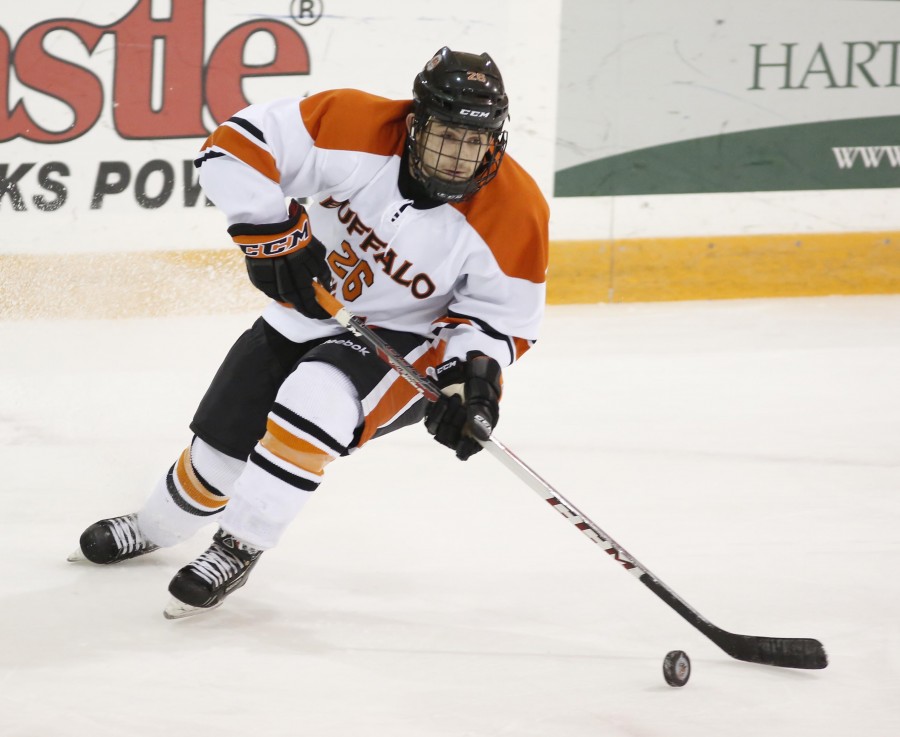 Dave DeLuca/The Record File Photo
The Buffalo State men's hockey team (1-3-2) took to the road this weekend and came back home with two losses after falling to No. 5 Plattsburgh, 6-1 on Friday and Potsdam, 5-2, on Saturday night.
The Bengals were dominated by nationally ranked Plattsburgh at Stafford Arena and were held to just 22 shots, while the Cardinals got off 40 in the lopsided contest.
The Cardinals scored the lone first-period goal just over a minute into the game, then came out strong in the second period, netting four goals.
Sophomore forward Jake Rosen scored his second goal of the season on a power play, with assists coming from junior forward Ryan Salkeld and freshman defenseman Garrett Chardon, making the score 5-1 with just over three minutes left to play in the second period. Plattsburgh would get their five-goal lead back minutes later, though. Plattsburgh would play possession hockey for the remainder, resulting in a scoreless third period and a 6-1 Cardinals win. Buffalo State was 1 of 5 on the power play while Plattsburgh was 2 of 6 with a man advantage. Six different Cardinals scored for Plattsburgh.
Sophomore goaltender Mike DeLaVergne started the game, but was hurt while making a save after allowing two goals on eight shots. Freshman goalie Ian Sylves stepped up and saw his first collegiate action. Sylves stopped 28 of the 32 shots he faced.
Sylves was prepared when DeLaVergne went down and stepped into the role feeling confident, but did have to adjust to the speed of collegiate hockey.
"I was pretty comfortable. I was excited, but not too nervous or anything like that," Sylves said. "I'd say you have to play a lot more of a buttoned-up game; everyone has to really make sure they're doing their jobs, because teams will take advantage when you make mistakes. It's a little bit faster of a game with better passing and a little bit harder shots, definitely."
Head coach Nick Carriere saw good things from the freshman goaltender and felt he stayed poised in front of a large crowd.
"Ian, for his first college hockey [game], in front of 2000-plus people in Plattsburgh against the No. 5 team in the country, he did pretty well," Carriere said. "We went over the video with him and [not] too many of the goals scored on him, he had much of a chance. There are always areas where he can improve, but we were relatively happy with his performance."
Buffalo State visited Maxcy Ice Arena on Saturday night to take on the Potsdam Bears, and saw another tough loss despite an improved offensive effort.
It was a close contest through the first two periods before three third-period Potsdam goals gave the Bears the winning edge.
Potsdam's Dan McCarney opened the scoring just over three minutes into play and would net a second goal early in the third. Potsdam would go up 2-0, but Buffalo State evened it up after a shorthanded goal from freshman forward Jason Zaleski and a wrister from junior defenseman Scott Roy, his first of the season. Junior forward Cory Gurski and sophomore defenseman Nick Schiro assisted Zaleski, while freshman forward Ryan Stayner and sophomore forward Taylor Pryce set up Roy. Three unanswered Potsdam goals, including a late empty-netter, gave the Bears a 5-2 win.
Buffalo State finished with 39 shots, nearly twice as many as they registered in the previous contest.
Sylves saw a heavy workload in his first collegiate start, making 44 saves in a losing effort.
Neither team scored on the power play, as Buffalo State was 0 for 3 and Potsdam was 0 for 2 with a man advantage.
Sophomore forward Nick Berst feels that the team needs to get more guys in front of the net in order to be successful on the power play.
"We need to make sure when we get shots off in front of the net, we always have traffic in front of the goalie," Berst said. "That's the most important part, having screens and causing commotion in front of the goalie and not making it an easy save for him."
Carriere wants his team to have better awareness when it comes to getting the puck to the open skater.
"Our guys need to do a much better job of identifying our open guys that don't have the puck," Carriere said. "Especially when they're collapsing in on our area of the ice, making sure those sticks are picked up and making sure we have body position on those guys."
Despite the tough losses, Berst feels that if the Bengals put the pieces together, they have the potential to be a force.
"We stick to our systems, we're a scary team. A very scary team," Bert said. "When we start going away from what coach gave us in our game plan, that's when we get into trouble. We stick to our fore checks, our neutral zone and our defensive zone, then we can play with any team in the country."
Carriere called DeLaVergne's injury a lower body injury, and expects Sylves to start in net this Friday when Buffalo State travels to Fredonia to take on the Blue Devils in their seventh consecutive SUNYAC matchup.