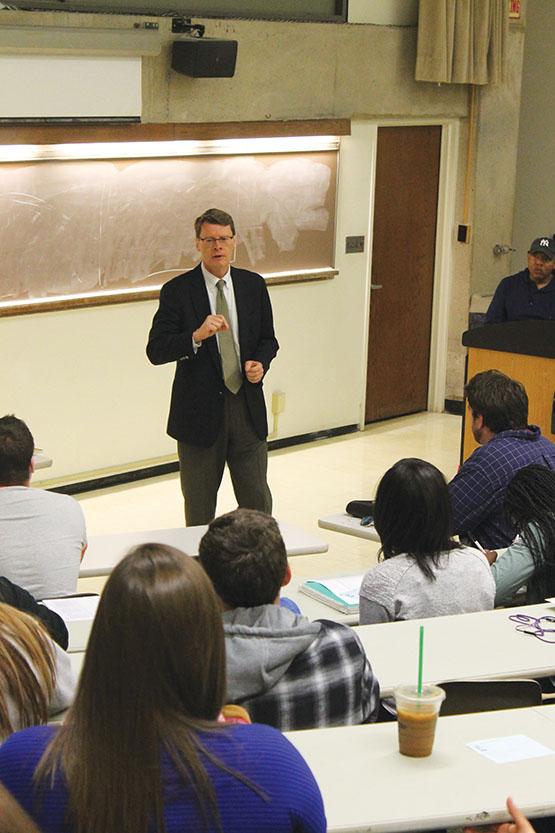 Teagan Knowles/The Record
The New York Public Information Research Group (NYPIRG) is now accepting applicants for its 2015 legislative internship in Albany, where students learn to be lobbyists and work directly with state legislators.
NYPIRG Legislative Director Blair Horner spoke to students at SUNY Buffalo State on Tuesday, Sept. 23 about the internship, encouraging them to apply.
"Our folks get experience that's different from a typical internship experience, they're not gofers," he said. "They actually do things, they have to know the rules, they have to learn how the process works."
Horner said the interns become "autonomous, full-time lobbyists" who have their own meetings and materials and coordinate with legislators in the capitol.
"They are sort of our eyes and ears at the capital, they go to committee meetings, they go to hearings, they observe," he said, adding that they also occasionally testify in court, research and organize coalitions.
Horner said interns from previous years had later accepted government jobs, including one who became the chief of staff for the state's Department of Health, and another who was deputy secretary for health and human services for former governor David Patterson.
Five interns are chosen each year to work in five different issue areas: consumer protection, higher education, health care, political reform and energy and the environment.
Last year, senior history major and political science minor Alex Bornemisza was chosen for the internship.
"Honestly, it was the most eye-opening, door-opening, unique experience of my entire life," Bornemisza said. "It was a very nice place to actually get out of the classroom and actually put all of what I've learned over the past four years of school to the test."
While in Albany, he was involved in lobbying for and against bills dealing with energy and environmental issues. For example, he worked on blocking a bill that would relax laws against pesticide use.
Bornemisza said he is unsure of what career he'll pursue in the future, but that the internship was definitely good for networking.
"You won't get an experience like this anywhere else," he said. "The amount of people that you meet and the connections that you make are really experiences you cannot get with any other internship out there, save for the actual Senate and Assembly internships within the capitol itself, but even those are very limited."
Horner said applicants are not required to have NYPIRG experience, though most are chosen from schools with NYPIRG chapters, like Buffalo State. He also said most of the applications come from social sciences majors, though they have taken students majoring in hard sciences and English.
"I'm looking for a demonstrated ability to communicate and some capacity to work independently," Horner said.
Applicants are chosen based on rolling admissions and applications are available until the end of October. Interns are chosen in early November.
The internship begins Jan. 5 and lasts through the end of the college semester in May, though interns have the option of staying until the end of the legislative session in late June. Interns receive three weeks of orientation training before they begin operating on their own.
They also receive a $500 stipend every month. Lodging is not provided for them, but NYPIRG will help them find housing in the low-income student section of the city.
Email: [email protected]