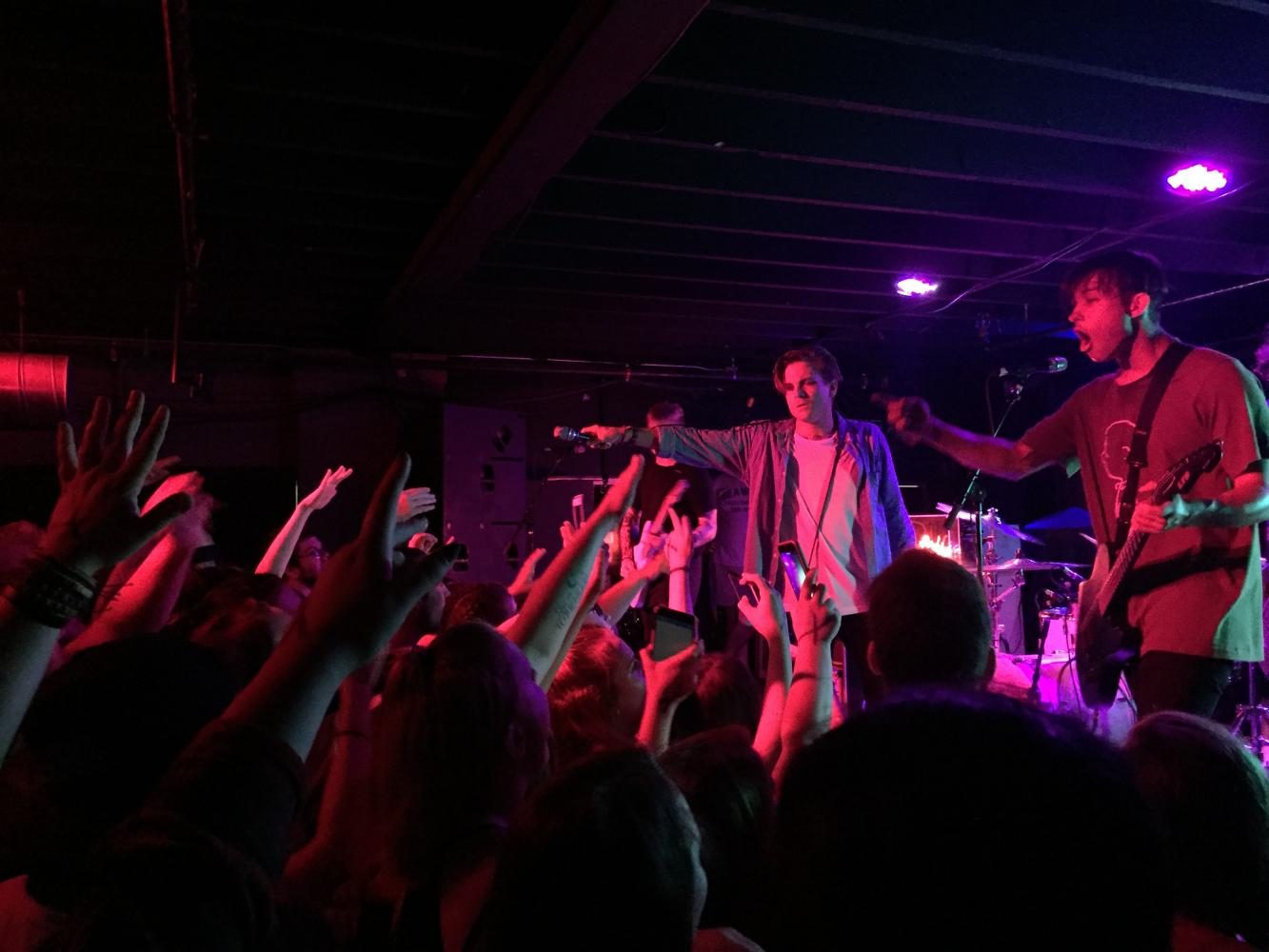 Last night at the Waiting Room, several bands performed to a sold out crowd as part of Real Friends' spring tour with Tiny Moving Parts, Have Mercy, Broadside, and nothing,nowhere. While every act was exciting, there was one band that brought the energy first to the venue: Broadside.
Formed in 2010 in Richmond, VA, and currently located in Los Angeles, Broadside have been slowly climbing the pop punk ladder, sharing stages with bands like The Ataris, Such Gold, and With Confidence, and gained a lot of popularity after playing all of last summer on the Vans Warped Tour. The group composed of vocalist Ollie Baxxter, guitarists Niles Gregory and Dorian Enrique Cooke, and bassist Pat Diaz, signed with Victory Records (Colours, Reverend Horton Heat, We Ride) in 2015 and helped launch a new era for the Chicago based label who would later sign several pop punk and easycore bands like Abandoned By Bears, Save the Lost Boys, and recent signees For the Win. The band released their debut album Old Bones in 2015 and will release their sophomore album Paradise on June 16.
Even though nothing,nowhere. kicked off the show at 6:15, Broadside were able to get the crowd moving. With a packed house lit under red lights, Broadside got on stage around seven with a neon sign that said "Paradise" in a fancy pink font.
The band started off their set with "Come & Go", a track off their debut album which got the crowd going. Broadside kept the energy going and got the crowd moving with the audience constantly forcing themselves closer to the stage to sing at the top of their lungs to their favorite songs from the band, while others moshed in the circle pit. Broadside played a bunch of songs from their debut, such as "Human Machines", "A Light in the Dark", and "Storyteller", and played "Hidden Colors", a track off their upcoming album Paradise. Broadside closed their seven song set with "Coffee Talk", one of their most popular tracks, which got the whole venue singing as loud as they could in the hot heat built from all the moshing, crowd surfing, and constant energy the crowd kept giving off.
During the middle of their set, two ladies began to argue and shove each other, which caught the eye of Baxxter, telling them politely to stop. The ladies surprisingly stopped, listening to Baxxter's plea.
Later on during their set, Baxxter went on a rant against Kardashians, shaming them for telling people how to act and that cash is everything. He told the crowd that they are horrible role models and that we shouldn't follow advice from celebrities.
While the whole concert was fantastic, Broadside's set got the venue pumping with life. With seven songs, Broadside did more to rev up the Waiting Room. Overall, Broadside's set was one of the best sets that night. For a band that's slowly getting big in the scene, these four lads from Richmond are truly showing the scene that they are something worth paying attention to.
The next date of the tour will be on Tuesday, June 6, in Toronto, ON, at the Phoenix Concert Club.