Advertise
Advertise with The Record
The Record is the largest media organization on SUNY Buffalo State's 12,000-student campus. The Record has an online circulation of approximately 20,000-25,000 visitors monthly. For further information about advertising in The Record, please contact us via email at bscrecord.ads@gmail.com.
Online Ad Sizes and Rates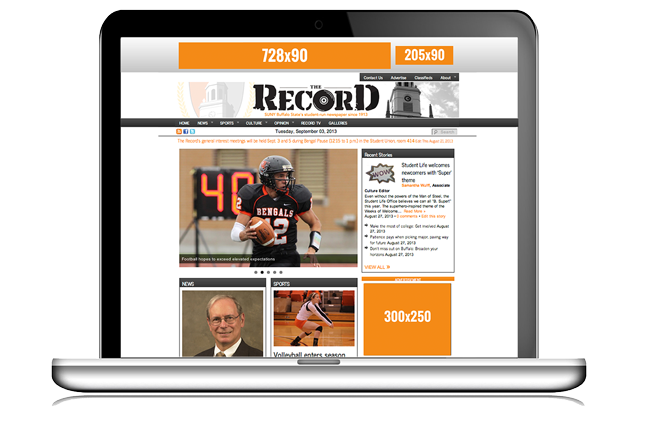 Leaderboard Main – 728x90px  7 Days…$80.00 30 Days… $280.00
Leaderboard Small – 205x90px  7 Days…$40.00 30 Days…$140.00
Widget – 300x250px 7 Days…$55.00 30 Days…$190.00
Banner – 580x70px 7 Days…$70.00 30 Days…$245.00 (see Luminar ad for example)
 Classified Ads
Ads in the classifieds section of our website 1 Week…$15.00 1 Month $30.00
Placing an Ad
Contact Information
Dan Almasi, Executive Editor bscrecord.ads@gmail.com

Office – (716) 878-4531

Cell – (716) 866-6385

1300 Elmwood Ave. Buffalo, NY 14222 Campbell Student Union, 414

 

Deadline: Ads should be emailed to bscrecord.ads@gmail.com sized to the appropriate specifications. Ads should be designed in RGB format and saved as a JPG, GIF, or PNG file.
Payment: The Record accepts payment in the form of check or money order only. We must receive payment before posting ads.