Student veterans march in silence with military members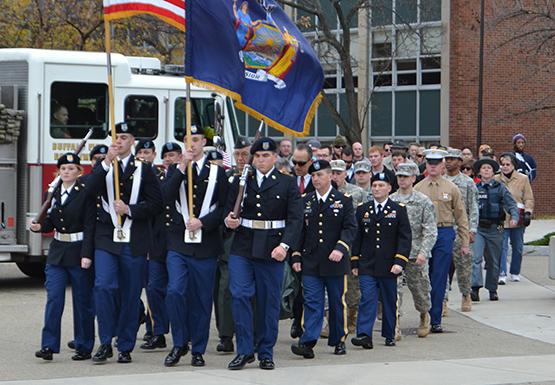 The fifth annual Veterans Day Silent March took place on campus Thursday. The march started at Chase Hall and proceeded on to the Student Union Quad, where a ceremony took place.
Participants in the march were student veterans along with present and past members of the military and their spouses.
Jason Gilliland, the march's coordinator, said the event serves as a thank you and appreciation to all veterans for their services and their contributions to our national security. He has been coordinating the event for the past three years.
Gilliland said the silent march originated from a student organization called the Armed Forces Organization, which is now known as the Student Veterans of America. He thanked special guests for their contributions to the event, including student veterans for making the event possible, alumni association for sponsering the event, and all others who helped put the event together.
A display of 169 small American flags assembled in thirteen rows, forming the shape of a triangle was located right in front of guests. This was a representation of a folded American flag given at a service member's funeral, and the thirteen rows represented the thirteen British colonies that declared independence from Great Britain.
Each flag represented 40 Americans killed in Iraq and Afghanistan.
Margaret Shaw-Burnett, associate vice president for continuing professional studies, shared that Buffalo State celebrates and honors the service of our veterans and military students on a daily basis through providing services to meet their needs.
"Our aim is to make sure that we are the best of the best dealing with our veterans students," Shaw-Burnett said. "I think Buffalo State has accomplished that."
Buffalo State alumnus Clint Morano, who is currently an airport liaison officer with the FBI and a U.S. Navy veteran, was a special guest speaker at the event.
"It is very exciting to be here and see how Buffalo State is continuing to improve the campus," Morano said.
Morano reflected back on his days as a college football player and how his professors and education at Buffalo State helped him achieve academic success and his future of becoming a Naval aviator.
World War II veteran Efner Allen "Lucky" Davis was recognized for his services. Susan Bair, the vice president for institutional advancement, said that Davis served in the U.S Army during the war as a combat medic.
Bair said that Davis contributed more than $400,000 to endow the Efner Allen "Lucky" Davis scholarship fund in support of retuning combat veterans from Western New York whom study at Buffalo State.
Alumna Rita Argen Auerbach introduced Brian Pembleton, the recipient of the Military Service Scholarship. Pembleton said that he was shocked and excited after learning that he won the scholarship.
"It was a great feeling and a sense of accomplishment to be granted the scholarship," Pembleton said.
Pembleton is a senior and social studies major with a minor in intelligence analysis. After serving in the Air Force Reserves, Pembleton decided to attend Buffalo State because he heard a lot of good things about the college.
"Being a combat veteran myself, receiving a simple thank you goes a long way and is greatly appreciated," Pembleton said.
Pembleton said he feels more students should participate in the ceremony. He is a firm believer that it demonstrates the honor and respected Buffalo State holds for student veterans.
Pembleton added that he believes that the event is a very good idea and hopes that the college continues to do it every year.
"I know since the Iraq and Afghanistan War many Americans and students have mixed reviews on the War, but first and foremost you should not confuse the warriors with the war," Pembleton said.
Email: [email protected]
Leave a Comment